Fall Schedules online!
September 30, 2014, 0 Comments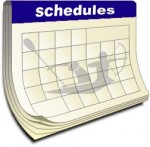 The Majority of our Fall Schedules are now online! If you do not see a link to your schedule, it may not be complete yet but should be up shortly. You can find the schedules by selecting your area at the top of the page and then clicking "Schedules".

If you need a list of the field locations, please visit our Coaches Corner or Parent Resources for a comprehensive list of our game facilities with addresses.

Also, don't forget that uniform pass-out begins tomorrow, Wednesday October 1st at 12:00PM in both of our offices!

Thank you and have a great season!