FALL UNIFORM ORDERING INSTRUCTIONS
August 29, 2016, 2 Comments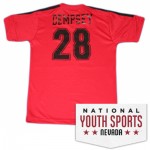 FALL ONLINE UNIFORM ORDERING INSTRUCTIONS

Website: UNIFORMS.NYSNEVADA.COM

Note: You will need your child's team number before placing an order
Ordering a name on the back of a jersey:

1. Click on the sport your child is playing
2. Select the age group.
3. Select, league area, jersey size and team #.
4. Fill in the "name on jersey field". This will be the name you want on the jersey.
(Only one shirt per child is allowed. No parent shirts.)
5. Click on add to cart.
6. If you wish to add shorts/pants or socks you will click on "continue shopping"
To add shorts, click on the sport. Then select the other items you wish to add.
7. Once you are done shopping click on checkout.

***Uniforms will be distributed to one team representative on the designated pick up day. The team rep will distribute the items to the team. Jersey tops will be provided for every child on the roster. You do not need to order a jersey top if you do not wish to customize. Email uniforms@nysnevada.com with any questions.

UNIFORM CUSTOMIZATION ORDER DEADLINE IS FRIDAY, SEPTEMBER 2
(ORDERS PLACED AFTER SEPTEMBER 2 WILL BE SUBJECT TO A LATE FEE)

**Uniforms can be customized at your local office after your included jerseys are in hand.
Ciara burdette, March 14, 2016
QUESTION: I'm trying to place an order but its not showing my child size so what can I do?
NYS NEVADA: Once you select your child's sport & age group. You will be prompted to enter a size. Here are detailed instructions on how to order your child's uniform.

SPRING ONLINE UNIFORM ORDERING INSTRUCTIONS
Website: UNIFORMS.NYSNEVADA.COM
Note: You will need your child's team number before placing an order
Ordering a name on the back of a jersey:
1. Click on the sport your child is playing
2. Select the age group.
3. Select, league area, jersey size and team #.
4. Fill in the "name on jersey field". This will be the name you want on the jersey.
(Only one shirt per child is allowed. No parent shirts.)
5. Click on add to cart.
6. If you wish to add shorts/pants or socks you will click on "continue shopping"
To add shorts, click on the sport. Then select the other items you wish to add.
7. Once you are done shopping click on checkout.
***Uniforms will be distributed to one team representative on the designated pick up day. The team rep will distribute the items to the team. Jersey tops will be provided for every child on the roster. You do not need to order a jersey top if you do not wish to customize. Email .(JavaScript must be enabled to view this email address) with any questions.
UNIFORM CUSTOMIZATION ORDER DEADLINE IS MARCH 18TH
(ORDERS PLACED AFTER MARCH 18TH WILL BE SUBJECT TO A LATE FEE)
**Uniforms can be customized at your local office after your included jerseys are in hand.
CHRISTOPHER, March 14, 2016
QUESTION: I just signed my two boys up yesterday, no email to inform me of team name or any of that sort of information. I would like to order the jerseys before deadline March 18 so I wouldn't be charged additional late fee. This is my first time with NYS, I did try to use the contact us button to address my concerns but no one has replied so far. Please help!
NYS NEVADA: Thanks for signing up. Please remember we're closed on the weekends and Monday's. We will call you on the next business day with your team's information. We would encourage you to sign up sooner next season so you can attend our Parent Meeting. This is where you meet the other parents on the team, come up with a practice schedule, and elect a coach. We also go over uniform ordering. But no sweat, we can catch you up.