New Website & Free Registration Contest!
May 01, 2014, 0 Comments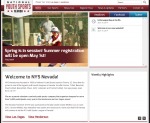 Welcome to our new website! We hope you find our new site user friendly and also more helpful to you as a parent and/or coach. Make sure you select Las Vegas or Henderson to find the correct information for your team. Most information can be found under your sport, schedules or scores. Our website features a new Coaches Corner. The Coaches Corner contains information regarding tips, drills and other information for coaches! If you have any questions, don't hesitate to call and we will help you navigate around.

In order to speed up future registration processes, we're going to hold a contest beginning now that will end on May 16th, 2014 at 11:59PM. In order to be entered into the contest, you'll need a create your free NYS Nevada account. Even if you aren't planning to register for our open Summer Season, it's important to create your new account, as it will speed up future registration. This is especially important for those of you that like to visit our Registration Events off-site! If you have your account already created, it will take just minutes for you to get registered.

There are several ways to create your account. You can log on to our New Registration System and select "Create your NYS Nevada Account" in the top right. There is a video to explain how to sign up and some instructions. Remember, the first information you enter is yours as the parent or guardian! You can add your children and family members at the bottom of the form.

Since you're already on our new website, you can click "Register Now" and then select our Online Registration.

You can also visit either one of our offices to sign up for an account. Our offices hours are Tuesday - Friday 10:00AM to 5:00PM. Our Henderson Office is open 10:00AM to 2:00PM on Saturdays, as well.

If you don't want to create your account online or in person, you can call our offices at (702) 454-7863 and one of our Coordinators will help get you signed up over the phone!

Once we reach the contest deadline, we will select a minimum of three (and possibly more, depending on the number of accounts created) accounts that will receive a Free Registration* for the current season if playing or for a future season!

*Free Registration is for our Recreational Programs. If you'd like to like to use the Free Registration towards another sport, it has transferable credit of $80. Only one account per household is allowed for contest purposes. Registration credit will be assigned to the winning account and can be used at any time for any business with NYS Nevada. If you have any questions, feel free to send us an e-mail to contests@nysnevada.com.