Summer Hours
July 03, 2017, 0 Comments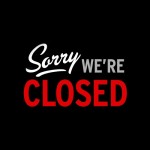 REMINDER: NYS is in Summer Hours for the Month of July

We will be open the week of July 16th & 23rd Wednesday - Friday from NOON - 5PM. We will be closed Sunday, Monday, Tuesday, and Saturday.

We will return to our normal business hours of Tuesday - Friday 10AM - 5PM & Saturday's 8AM - NOON beginning August 1.